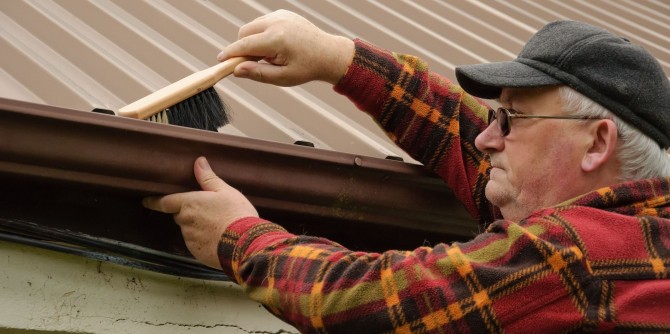 After a vinyl gutter system is installed, debris needs to be removed from interior pieces occasionally in order to prevent water from backing up and damaging portions of a home's rooftop. It is also a good idea to inspect gutter pieces to make sure that they are not leaking. The following steps describe how to clean a gutter system and seal cracks in pieces so that a system continues to work the proper way.
Materials
• ladder
• hand rake
• scrub brush
• water hose
• detergent
• tube brush
• tube of epoxy sealant
• putty knife
Cleaning The Inside Of Gutter Pieces And A System's Downspout
A ladder needs to be set up next to a gutter system so that the inside of each piece can be inspected and cleaned. A hand rake that is pulled through the inside of gutter pieces will help loosen leaves, twigs and other pieces of debris. Soapy water and a scrub brush can be used to eliminate stains from each gutter piece's interior. A long, tube brush can be inserted into a system's downspout in order to dislodge materials from inside of it. A water hose will remove any soapy residue or small pieces of debris that remain in the inside of a gutter system.
Sealing Cracks And Gaps In A Gutter System
Once vinyl gutter pieces have dried, visually inspecting each one for damage will prevent a system from leaking. If any parts of a system need to be sealed, a line of epoxy sealant can be applied to them. The epoxy sealant is waterproof and won't shrink or come loose after being exposed to moisture or sunlight. If the surface of a line of sealant is uneven after it has been applied, a putty knife that is moved over it will help smooth it out. Once epoxy sealant has dried, a gutter system will continue to transport rainwater and deposit it away from home.