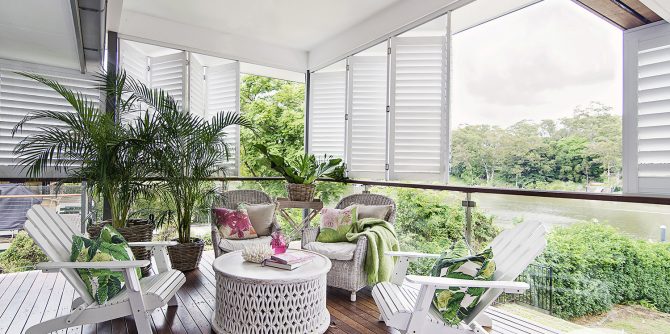 If you're considering aluminium plantation shutters in Melbourne or can't decide because of the many materials available, it's best to learn more about them so that you can make an informed decision. For one, they are highly versatile and come with variety. You can choose the colour, design purposes, and functionality you require. Of course, they're also cost-effective; you aren't going to need to replace them every few years like you would with Venetian blinds. Therefore, you can save money and have something that looks amazing for many years to come.
Aluminium plantation shutters in Melbourne offer more privacy and security than zipscreen blinds. Most people choose to use them outside on the veranda, patio, or deck so that they can enjoy the outdoors without all the hassles it brings. You can shield yourself from nosy neighbours, keep bugs out of the space, and keep it shaded and cooler during the hottest part of the day. The louvres are moveable, so you can change airflow and light amounts by adjusting the louvres and putting them at different angles. Along with such, you can still see outside and have the feeling of being outside by leaving the slats open slightly or tilting them a particular way.
Melbourne Shutters & Blinds offers many products for the exterior and interior of your home. If you want to create a warm, inviting space while giving yourself privacy as needed, aluminium plantation shutters in Melbourne are a suitable option. They're highly versatile, and they can be used inside. Most homeowners do like putting them outside because they can be made to look like wood, though they're durable and solid because they're made of metal. They're also designed to continue looking their best during the cold and heat of the seasons. They can also withstand water and wind, as well as UV rays without sacrificing style.